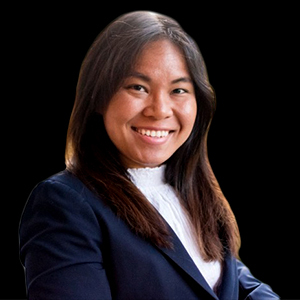 Meet Lora Fox, an IU staff member who has learned to balance managing administrative systems, pursuing her master's degree, and making it to marching band events.
What did you want to be when you were growing up?
As a child, my mom was supportive of whatever I wanted to be when I grow up. I wanted to be a police officer a child, then a doctor. In high school, I got acquainted to the world of business through some business programs. That interest led me to come to Kelley for my undergraduate degree. Business in technology classes such as K201 and K303 opened up the world of tech for me and I haven't looked back since.
In moments of self-doubt/adversity, how do you build yourself back up?
I have had several instances when the imposter syndrome has kicked in, and I feel like I do not belong. I am the only women in the OmniSOC team here at IU and sometimes that adds to the doubts. In order to build myself back up I like to focus on the good. I like looking at my resume and glancing over my accomplishments from over the years. I think about the big steps I have taken to get to where I am today. The other way I tackle my doubts are by researching ways I can get involves and stretch my capabilities. My mantra is when in doubt- apply.
What characteristics do you admire in other women in tech and why?
I think the two characteristics I admire in other women in tech are grit and perseverance. I admire these traits because there are times when you are the only women in the room, when you have to deal with mansplaining and are forced to doubt your worth- but you still keep moving forward and upwards and that grit and perseverance inspire me.
What are some of your professional endeavors?
I currently work as the lead security engineer at IU and I am also a part of the Big 10 academic alliance which is like a consulting firm for the Big 10 schools. My involvement with IUWIT is a meaningful intersection between academia and women students and staff who are working or interested in tech. I love helping students with resume reviews, mentoring, and attending events. As an IU alum I feel this is a great way to give back.
Do you have any tips on how to maintain a work-life balance?
Work-life balance was particularly challenging for me as I started with a role in consulting. I had to switch my mindset and draw strict boundaries. I try to only look at and reply to emails between the 9-5 window and try to completely avoid emailing over the weekend. Something that has been helpful to me is having my work email only on my laptop so the temptation to glance over it on my phone has significantly reduced. The other thing that has been valuable to me has been being more communicative to my manager about my boundaries and priorities.
Is there a woman, past or present, who you admire or look up to?
I really admire professor Karen Malher who was the instructor for my technology classes at Kelley. Professor Karen has been an incredible source of motivation and support for me. She inspires me to be more of myself and be less afraid when it comes to taking credit of accomplishments. In a broader sense, all these incredible women out there- entrepreneurs, defense personnel's, nurses, employees at Google and Facebook- they all inspire me in their own unique way.
What would you tell yourself a few years ago that you wish you knew then?
I would say- know that you don't know everything and that is okay. Things will work out. If you fall down, pick yourself back up and looks straight towards your goal.