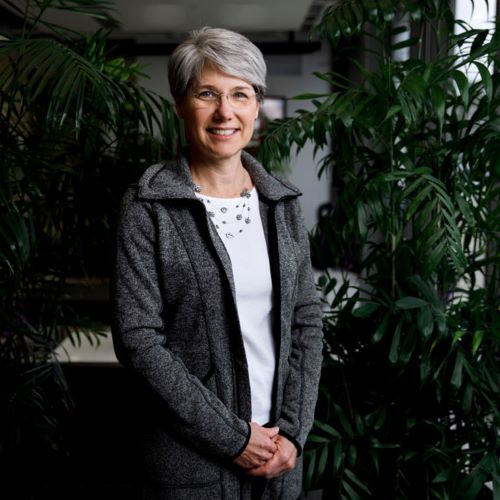 Email:

nomaier@indiana.edu
Campus:

IU Bloomington
Meet Lora Fox, an IU staff member who has learned to balance managing administrative systems, pursuing her master's degree, and making it to marching band events.
What did you want to be when you were growing up?
I've had several interests growing up. I loved horses and therefore wanted to be a designer for a horse farm. Soon I realized perhaps there aren't enough people who would be needing my services. Then in high school, I absolutely admired my French teacher and wanted to be like her, which I did. I taught French in a high school for five years.
In moments of self-doubt/adversity, how do you build yourself back up?
I like to focus on people that are happy than unhappy. I have a folder that I like to call "the good stuff." It 's a compilation of thank you cards, kind emails, and positive words, which I like to look at on some of those bad days. The good stuff is a reminder to focus on the good and the positivity, which genuinely make my work worthwhile.
What characteristics do you admire in other women in tech and why?
I admire women who   into non-traditional roles.Great technologists surround meat UITS. The traits that I admire are-fearless, creative,and playful.Unfortunately, women often get brought down because of the notion that tech is not creative or playful-and they couldn't be more wrong. We need women leaders who are fierce and tender and caring at the same time.
Are there any resources that have helped you succeed as a woman in tech?
The biggest resource is yourself- and your mindset of being in a constant conquest of being a lifelong learner. IU provides some great resources, and some of my favorite ones are the IT training- getting started webinars, self-paced leveling workshops to learn new skills. In fact, I just graduated with a certificate in sustainable technology from IUPUI.
How did you end up in the role you are currently in?
I currently work at UITS in the learning tech division. I am a part of DEPI- digital education planning initiatives- where we strive to find better solutions for teaching at IU, such as the IU e-texts. I worked as the chief of staff for habitat for humanity. That role also needed many technical skills because the chief of staff was also the head of IT. What did it mean for me? A steep and quick learning curve. Like any other non-profit, we also faced a lot of tech problems. I had never even set up an email before this. The role demanded learning a lot and learning fast. After excelling in this role, I wanted to do something with sustainability as well. As part of the Hoosiers to Hoosiers initiative, I felt that we were creating a meaningful impact. Following that, UITS was looking for someone in the learning tech division. After beating imposter syndrome in the face, I applied and got the job.
Is there a woman, past or present, who you admire or look up to?
Michelle Kelmer, who is also in the IUWIT leadership team is someone I really admire. I was uncertain about my role in the team, but she was incredibly gracious and willing to bring someone along and help me find my place at IU.
What would you tell yourself ten or twenty years ago that you wish you knew then?
Twenty years ago, I remembered asking one of my only friends with a computer, what will you do with that? Now that I look back on the incident, it makes me smile. I would tell myself to be more intrigued and curious about tech and take the time to learn as early as possible. What I love about tech is that it has leveled the playing field for pay as well.
I would leave with this thought- Gravitate to certain things fearlessly in the pursuit of what you want.
Send us a submission!
Know someone you think deserves to be featured in the spotlight? Let us know! Spotlights aim to feature the women in tech among all 8 IU campuses who are going great things in their professional and personal lives. Email your submissions to the IUWIT intern, Anjali Jain.