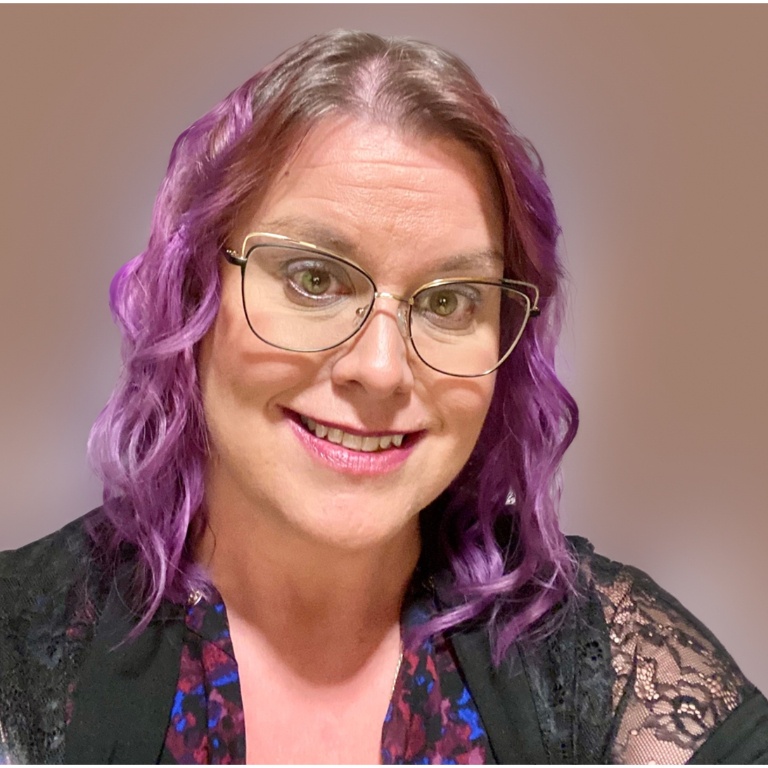 Email:

jlb3@iu.edu
Campus:

IU Bloomington
Meet Lora Fox, an IU staff member who has learned to balance managing administrative systems, pursuing her master's degree, and making it to marching band events.
What did you want to be when you were growing up?
For my entire childhood, I wanted to be a writer. Being a prolific reader gives me the ability to escape, and I wanted to be a writer to create that experience for others. Then in middle school, I was a writer for the middle school newspaper when the Challenger space shuttle explosion happened, and that enthralled and excited me to report on world events. I ended up pursuing and have a bachelor's in journalism.
How did you end up in the role you are currently in?
Out of college my first job was in public relations for a not for profit organization that raised awareness about child abuse. A not-for-profit organization is typically small, so I and all the staff were expected to wear many hats and do whatever was needed. This was in the 1990s when technology was pretty new. Everyone at the organization was intimidated by tech, except me. As the youngest employee, I was picked to upgrade the network to Windows '95 (Yes, it was that long ago!) I learned how to do it and realized I could pick up new technology easily. I enjoyed this a lot and decided I wanted to take up a more tech-oriented role.
For the next 12 years, I worked in a few different tech-support roles. I worked on the helpdesk for an insurance company and then with IBM, and eventually at IU on a team in UITS that supported the computers in the computer labs on campus. While in that role, I enrolled in graduate school and obtained a Master's of Science in Human-Computer Interaction. With that degree, I moved to the Usability lab that UITS used to have and worked as a usability analyst for 5 years. Then, I found out that the IU Center of Excellence for Women & Technology was being founded, and I saw an opportunity for me to get paid to work on one of my passions, which is empowering other women with and through technology. I ended up getting hired as their first full-time employee 8 years ago.
What's your go to stressbuster / something you do to relax?
I am a voracious reader. I love reading fiction to escape, especially horror and science fiction! Music is also key to my stress-relief. My husband is a live music videographer, so we love to travel to live music festivals to de-stress!
Do you have any tips on how to maintain a work-life balance?
I believe you cannot achieve work-life balance if you think of it as a ratio. The term "work-life balance" to me implies that work and personal life are two separate things. However, I don't think it's possible to fully separate them, especially now with remote work being so commonplace. If I get a work email at home and I know the quick answer I will respond then, and not wait until work hours to do so. If my dad texts me while I am at work, I will respond to him right then as well, and not wait until I get home. So I strive more for work-life integration. For a healthy lifestyle, you need to figure out what are the best times for you to do the things that need to be done. The most important thing is ensuring your personal life and work life work in harmony with each other.
What characteristics do you admire in other women in tech and why?
Like me, a lot of women in tech today did not go to school for a tech-specific degree. Their desire and ability to learn something new are traits I really admire. Often women are intimidated by tech due to stereotypical societal constructs. It's inspiring to see women shatter these stereotypes and strive to learn something new.
What does the world need more of?
The world needs more kindness and compassion.
What does the world less more of?
Judgement. We certainly need less judgement since we do not know what someone is going through.
Is there a woman, past or present, who you admire or look up to?
Mae Jemison - she was the first Black woman in space in the 1990s, and she was also the first astronaut to make an appearance in a sci-fi show - Star Trek The Next Generation. (I'm a huge Trekkie!) I was lucky to meet her at a luncheon at IU - she is truly a genuine person who strives to make the world a better place and wants to promote more inclusivity in STEM fields, two things I also want. She certainly is my hero.
What would you tell yourself ten or twenty years ago that you wish you knew then?
The first thing I would say is get into cybersecurity because there aren't enough women in the field, and it is very lucrative right now. I'd also say when you're applying for a job, think of job postings as an employer's wish list. They will list any and everything they're looking for, but they know it's not likely they're going to find someone with everything on the list. When in doubt - just apply. You might not meet all the qualifications, and that's okay because you have nothing to lose by submitting that application.
Send us a submission!
Know someone you think deserves to be featured in the spotlight? Let us know! Spotlights aim to feature the women in tech among all 8 IU campuses who are going great things in their professional and personal lives. Email your submissions to the IUWIT intern, Anjali Jain.