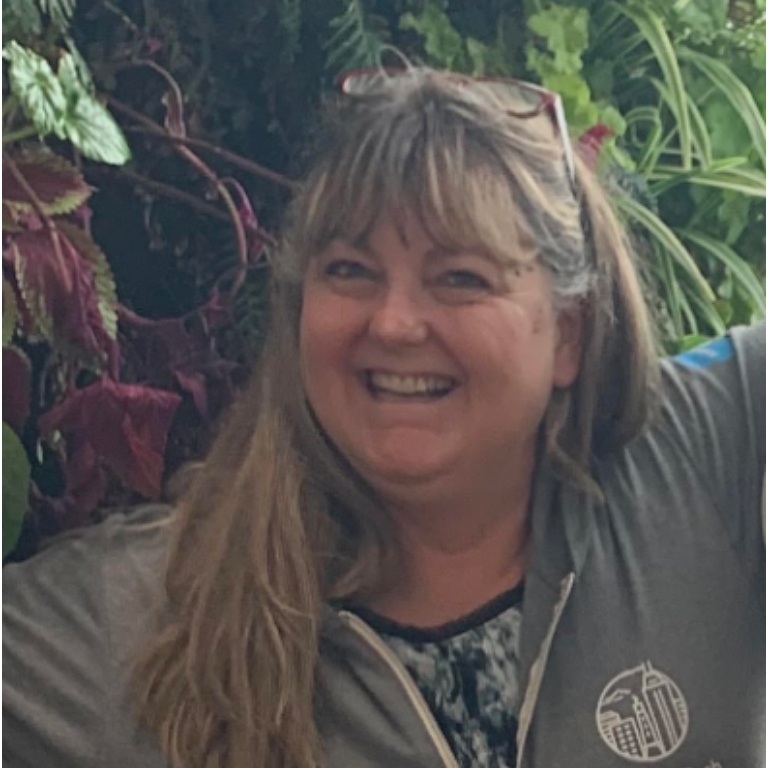 Meet Lora Fox, an IU staff member who has learned to balance managing administrative systems, pursuing her master's degree, and making it to marching band events.
What is your current job position and how long have you been in that role?
Right now, I am a Scrum Master at Salesforce for the Biz Tech unit. I have been here for about a year, blazing new trails in this area! It has been really interesting! I really love Salesforce, I love the company's morals and ethics, the area I work in, and I can bring in new ways of working into my area so, it's challenging. Everyday is interesting and I enjoy coming to work each day!
Can you describe your journey to where you are now?
I am very untraditional. When I graduated high school, I spent 10 years helping my father run his muffler shop. So, I spent a decade in the car repair industry, sweeping floors and throwing trash away. I am the kind of person who is going to do what needs to be done. I ended up helping manage the business. One day, I decided I wanted something different, so I quit there and began working at IU.

I worked for the Indiana Career and Post-Secondary Advancement Center, an organization that deals with higher education in Indiana, encouraging high school students to go to college. This is when I was first introduced to data and databases. I started sticking my nose into the database and how I could improve it. This really got me thinking that I wanted to go to school and be a database administrator. So, I started school at IU and quickly became interested in software. When I graduated from IU, I left IU for two years and worked for a company called Envisage Technologies which is where I really got introduced to Agility and making software with Agile and Scrum frameworks.

I decided I wanted my Master's because I knew that I would not be able to go as far as I wanted with just my Bachelor's. So, I went back to IU and received my Master's in Information Science while working at the School of Education as their main analyst. During my time at IU, I worked for the School of Education, Office of Admissions, and UITS.

Then, I moved to Indianapolis to follow my children and started working at Dominion. I have always wanted to work at Salesforce though, but they were not hiring for my position at the time. Eventually, I left Dominion Dealer Solutions to join the Salesforce team.
How has your experience as a woman in tech been?
I do not feel like I have every really witnessed any female biases in my career. Very frequently, I am the only woman in the room or on my team., but I do not get hung up on those types of things! My experience in the automotive industry definitely prepared me for working in such a male dominated field.
What has been your favorite project you have worked on in the past?
I enjoy social projects! My favorite projects in the past have been ones where the work I am doing is directly benefitting the community. I worked on a project in the past where we shared reading assessments for teachers and educators, all with the goal of making sure our little kids could read.
What advice do you have for women looking to enter the tech field?
Enjoy blazing trails because you are and always will be! Become comfortable being uncomfortable. Don't be afraid!
What are your passions and hobbies outside of work?
My family and children. I love animals. I am a big dog person. I also love camping and being outdoors!