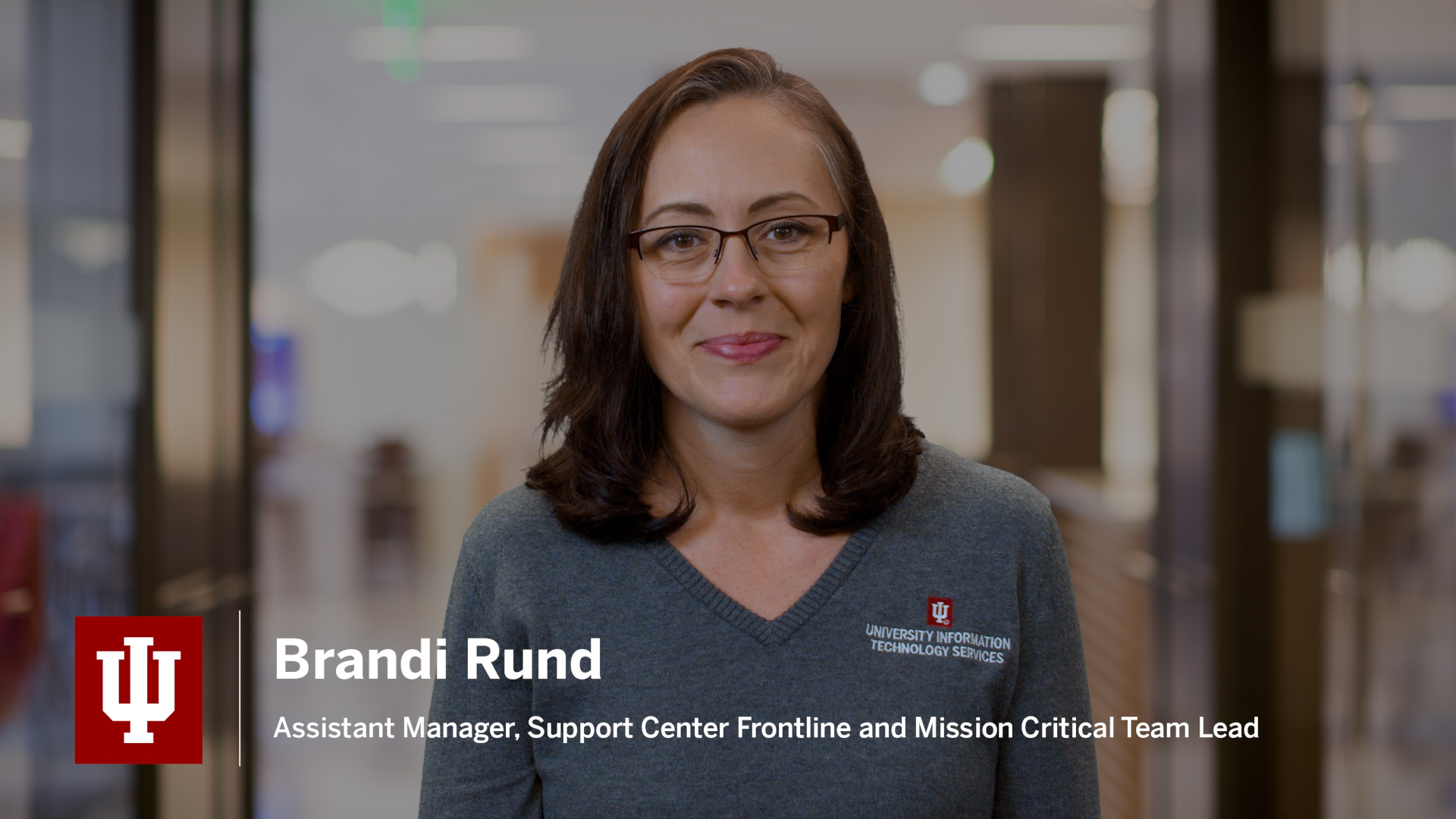 Email:

brrund@iu.edu
Campus:

IU Bloomington
Meet Lora Fox, an IU staff member who has learned to balance managing administrative systems, pursuing her master's degree, and making it to marching band events.
What did you want to be when you were growing up?
I wanted to be an author when I was growing up. I loved writing stories and reading books. My favorite genres revolved around teenage stories- Nancy Drew was undoubtedly a top pick. Then when I was in 2nd-grade, computers took over the world, and like others, even I was captivated by them. I experienced the machine at school, but I didn't get the chance actually to use it, which devastated me. At that moment I knew I wanted to do something with computers.
How did you end up in the role you are currently in?
I pursued computer programming in college and ended up working at a pharmaceutical company. The industry wasn't what I had hoped for, and therefore I started looking. I applied for a position in a K12 school, and I got the job. I knew I wanted a role that was the intersection of technology and education. I loved the culture of the environment versus corporate America. The role made me feel fulfilled. From that role, I was able to move to my current position at Indiana University. I love that no two days are the same and how dynamic the technology world is.
What characteristics do you admire in other women in tech at IU?
I admire that women at IU champion each other. It is not cut-throat. Every woman at IU is quick to say that's a good idea. They would take your information and would be happy to pass it on. They won't own it themselves; they are good at giving credit where credit is due.
What does the world need more of?
My current world needs more job applicants for the role I am looking to hire for (Chuckles!) The world needs more kindness and forgiveness, hope, and helping one another .
What does the world need less of?
The world needs less hatefulness and rudeness. Sometimes, people can really be mean, and they put their needs before others. People need to see the bigger picture and act accordingly.
Is there a woman, past or present, who you admire or look up to?
Dr. Julie Goodspeed-Chadwick- she is a professor at IUPUC. She is determined, well-organized, she has taken her career to new levels. She is the highest-ranking professor possible and is really big on research, is an advocate for women. I strive to be more like her each day.
A piece of advice for aspiring women in tech?
Be aggressive. Don't hesitate to advocate for yourself. Do not stand back and wait for someone to make something happen for you. You have to make it happen for yourself. Have a dream and follow it, and don't give up.
In moments of self-doubt/adversity, how do you build yourself back up?
I try to look at the situation and think about how I could do it better next time. I try to identify the mistakes and reach out to my mentors and talk with them for guidance and their input. Not just grow and learn but also strive to feel fulfilled.
Send us a submission!
Know someone you think deserves to be featured in the spotlight? Let us know! Spotlights aim to feature the women in tech among all 8 IU campuses who are going great things in their professional and personal lives. Email your submissions to the IUWIT intern, Anjali Jain.